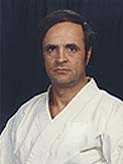 Hanshi George Van Horne
11/04/1935 to 09/24/2006
On September 24, 2006 Sensei George Van Horne died at this home surrounded by family after an 18-month battle with cancer. He was 70 years old. I was also there when my Sensei took his last breath. Sensei Van Horne was truly a unique man, a man who people remember as always having a warm smile and a caring attitude for those he came in contact with. He will be greatly missed by the many people whose lives he touched, directly and indirectly over the years. Pastor Danny Francis conducted funeral services. Mr. Francis was a close friend of Sensei Van Horne's for many years and had himself, trained in Chito-ryu karate. Family, close friends, karate students and numerous Chito-ryu Sensei as well as Sensei from various other styles of karate attended the services.
I began training with Sensei Van Horne as a young teenager and over the years, he became my closest friend. The family, friends and students of Sensei Van Horne have lost a very special man. The Chito-ryu karate community has lost a great asset to the style and the art of karate has lost a true patriarch. Sensei Van Horne had, at one time or another, trained with virtually every senior Chito-ryu stylist in the world. He made numerous trips to Japan and stayed in the Chitose family home while training with O-Sensei. Throughout his 45 years of training, Sensei always approached his karate training seriously. Regardless of how busy his schedule was, he consistently made time for his personal training. Even though Sensei considered Chito-ryu karate to be his primary art, he constantly sought out opportunities to train with vast numbers of senior martial artists from virtually every style of traditional karate in the world as well as other martial arts such as Aikido and Iaido. I was extremely fortunate to have had the opportunity to accompany my teacher on many of his travels. Many times while traveling with my teacher, I was witness to his training and conversations with these senior martial artists. It was amazing to watch their reactions when they realized that someone who did not even study their particular style of karate could have so much technical and historical knowledge about it. It created an environment that opened many doors, and I will always be thankful to my Sensei for such unique opportunities.
Sensei Van Horne's accomplishments over his lifetime were vast and his interests were extremely diverse. Sensei was a loving father of three sons and one daughter as well as a devoted husband and a friend to many. He, his wife Jean and his son Edgar have run a family business in the northern Kentucky area for many years. Sensei was an accomplished athlete and a coach in several sports. He was an Ordained Methodist Minister with a master's degree in Theology. He also had a master's degree in History, and served as a Professor of History at Kentucky State University for many years. His interest, knowledge and memory of historical information specifically pertaining to karate was truly unique, even among karate teachers.
Sensei Van Horne began his karate training in 1961, under Sensei Don Nagel of Isshin-ryu karate while attending a university in New Jersey. Around 1963, he accepted a position as a minister in Covington, Kentucky where he began training in Chito-ryu with Sensei William Dometrich. At that time Sensei Van Horne was a Ni-dan in the Okinawan style of Isshin-ryu karate and upon his moving to Kentucky, he was one of only two yudansha in the entire state. Around 1965 Sensei Van Horne moved to Frankfort, Kentucky after accepting a faculty position at Kentucky State University and he immediately established the first karate school in this area of Kentucky that same year. Around 1984, Sensei Van Horne moved back to the northern Kentucky area continuing to train in Chito-ryu. He eventually established his own dojo in Florence, Kentucky which continues to operate under the guidance of his son and his senior students. Sensei Van Horne served as an executive member of the Shihan-kai and Shibu-kai of the Koshin-ha Chito-ryu Association. He was widely respected in karate circles world wide as a teacher, historian and a true gentleman.
One of the things people remember and admire most about Sensei Van Horne was the fact that he was an extremely humble man. Regardless of how long he had been training, the ranks or titles he had acquired, the seniors he had brushed shoulders with or the amount of education he possessed, Sensei never passed up the opportunity to meet quality people, learn from them and/or to share his knowledge with them if they asked. Having trained with a great number of exceptional karate teachers myself and having taught several thousand police officers and military personal I can honestly say that Sensei Van Horne was one of the best I have ever seen when it came to application based training. His ability to reverse engineer techniques or to decipher a hidden meaning in a kata was truly unique. However, a person would never have known this unless they asked. I was also extremely fortunate to have had a Sensei who led by example by placing such a great emphases on the importance of all areas of karate training, not simply the technical side. Sensei always encouraged his students and others he came in contact with to train seriously and enthusiastically, reaching higher, studying longer and harder.
Because of Sensei Van Horne's magnetic personality, other people wanted to be around him. If one had to summarize in short, what made Sensei Van Horne so special, it would be the fact that he knew how to treat people with genuine respect and kindness, a direct reflection of the man's true character. He was an exceptional leader who understood the difference between investing time with others as opposed to simply spending time with others. Those who were his students and those who were fortunate enough to have shared any amount of time with him knew this all too well. Sensei Van Horne was a man of high moral values who did not put people down or attack them. Even if someone attacked him or his character, Sensei always chose to take the high road. Sensei never sacrificed his own principles and morals for anyone and his goals always remained the same: to motivate others, set a positive example by leading the way and to instill self-discipline and a strong thirst for knowledge in others. Sensei's exceptional example to me and many others over the years is exactly why I chose to use the term on my website, Lead by Example, Live the Example. These were his goals and principles as a teacher and he always attempted to teach these same principles to those he came in contact with by serving as The Example.

James L. Davenport, Hanshi, Kentucky Budo-kan, Frankfort, KY.